Cranky Day Blend
Super effective essential oil recipe for stress
For those days when you're tired, stressed and just plain cranky.
What's in the essential oil blend for stress?
Lavender essential oil (I call this the "Leonardo da Vinci" of essential oils because it's just freaking amazing at practically everything)
On an emotional level, Lavender balances the mood and emotions.
Bergamot essential oil (I called this the "Little Oil of Stress" because it's uplifting and calming at the same time)
Ylang Ylang essential oil (I call this the "Emotional Crutch" because it's fabulous for stress and anxiety particularly long-term stress and anxiety)
Ylang Ylang has three amazing powers. It balances adrenaline in the body, it controls heart rate, and it controls breathing rate. So Ylang Ylang acts on emotions in a very physical way.
How to use the essential oil recipe for stress
My favourite way to use these oils is in a bath or an inhaler, but you can also use them in a massage.
To make a blend for a bath, add one drop of each oil to a teaspoon and a half (7.5 ml) of milk or vegetable oil such as Grapeseed or Olive Oil. If you're thinking that the mention of milk must be a misprint, it's not. Milk is a very handy carrier for essential oils in a bath because, unlike vegetable oil, it doesn't cling to the sides of the bath and need extra scrubbing to remove. When I first heard the idea of using milk in a bath I thought the friend who told me was bonkers. I had visions of myself sitting in a bath full of milk looking a bit like Cleopatra. But the milk completely dissolves in the bath and doesn't leave an aroma.
Storing your blend
Of course, if you want to make up a blend for a couple of baths then you would need to use vegetable oil as your base. You can store any unused oil in a dark glass bottle and store it, with the lid tightly closed, away from light and heat in a press or drawer. The blend of essential oils in vegetable oil will last for 3 months when properly stored.
When you've had one of those days, and you're tired and cranky, sitting in a bath with these oils will work wonders. I always find I feel better straight away. I usually have a great night's sleep and I wake up the next morning feeling great.
Using the oils in an inhaler
An aromatherapy inhaler is easy to use, and it's very effective. For emotional conditions including stress, you would add 10 drops of essential oil to the inner wick and inhale deeply as required. Aromatherapy inhalers often look like Vick's inhalers, but unlike Vick's inhalers, they are not meant to be inserted into the nostril. Simply waft the inhaler under your nose and inhale. The aromatherapy inhalers are very handy because you can take them with you in your pocket or bag and use them when you need to.
If you enjoyed this why not check out my free video course where I explain how to use essential oils safely and get the best results.
In this short course you'll learn how to use essential oils with complete confidence while getting amazing results.

There's so much confusing and conflicting information out there about using essential oils. But, after the course you'll be 100% clear on:-
The 3 things you should never do with essential oils.

When you should avoid particular oils.
3 easy and effective ways to use essential oils at home.

Which brands are best.
All the information is also in PDF form for a quick recap
If you enjoyed this post, you'll love these too.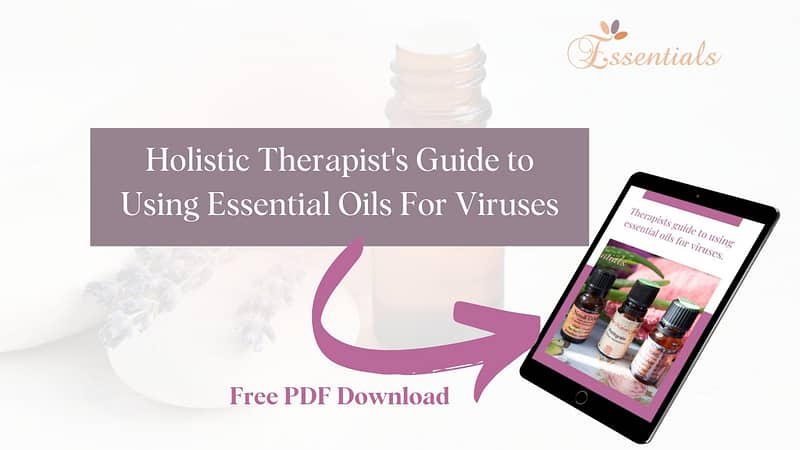 Holistic Therapist's Guide to Anti Viral Essential Oils
Essential Oil Recipe for Pain and Infection